Text for Pimsleur Russian


If you've never listened to any of the Pimsleur language programs, you can listen to Pimsleur Russian I - Lesson 1 here on the YouTube video from Simon & Schuster.



Now, wouldn't it be nice to be able to see the text for it and be able to play each line or word repeatedly with a touch or mouse click? And be able to slow it down (or speed it up)?

Very often you simply can't hear the difference in sounds. For example, the 'L' and 'R' in English sound exactly the same to a Japanese person, and they have a sound which is basically right in the middle of the two.

Several people who have emailed us for the Pimsleur text have mentioned their mistake in saying 'T' for 'D' and vice versa.

"My Russian speaking friends keep pointing out that I'm mistaking b for v and t for d and learning words incorrectly from just the tapes."

I tend to be rather critical of Pimsleur, but in fact many aspects of their philosophy are 'spot on' and I agree with completely. Unfortunately, they really dropped the ball in implementing the philosophy. The 'spaced repetition' is terribly chaotic and many expressions are actually incorrect. I also find the 'gaps of silence' excessive. Roughly half of the audio is silence.

Since many people want an audio based program to listen to while commuting or doing other activities, we decided to make our own. You can decide for yourself which program and method you prefer.

In our new audio series, we introduce and practice 30 new words in a 30 minute audio lesson. That's a lot of new words in 30 minutes, but it's manageable since it's supplemental to a range of other material. Pimsleur introduces 10-13 words per lesson. Here's the first audio in the series.



(To read along with the audio and try the 'active text' click here.)

It's pretty clear that being able to see the text is very beneficial, so why is that the text for Pimsleur Russian doesn't exist in a 'proper' packaged form? Of course Pimsleur has it, but they're not sharing it. Why? I have NO idea. They could even sell it and make money from it.

I started to type it out but quickly realized that I should be spending my time with our own material. And it's a lot of work! There's fifteen hours of audio time for each level. Hitting the pause and typing Russian that I knew wasn't natural just seemed crazy.

Still, it does have some merit for learning Russian, and many people are looking for it, so I asked my friend to help. After a couple of lessons it was driving her crazy. It was so boring and hearing Russian that was often incorrect or unnatural was very frustrating. It took a lot of begging and pleading, but she finally finished. As a token of appreciation for her help, I ask everyone for a donation of $10 (for each level).

The last time we offered it freely, I got a nasty letter from Simon & Schuster and my website was blocked so I don't want that to happen again. Just send me an email and I'll pass it on to you, and in appreciation for your donation I'll give you some additional material to help you learn Russian.

At the same time, I really want to encourage you to consider taking a different approach and use different material that will help you learn Russian much faster. Our program is still a 'work in progress' but all our members are extremely happy, and many of them were originally using Pimsleur.

To get a clear idea of the wide range of material that we have available for our members, please visit our 'Free Sample Material' page.

I really would like to find the 'ultimate language learning system'. Does it exist? I don't know, but if you find it, please let me know. Can it exist? I think so, and we're trying to build it. :)

Here's an example of why listening only isn't sufficient:





Actually, I'm really surprised that people enjoy listening to these lessons. When I listen to them I feel like a ball in a pinball game bouncing around from one thing to another, seemingly at random. Can you imagine learning a musical instrument or a sport, jumping around like that? No way! Language has to FLOW. It's a connection of ideas strung together, each one relating to the other.

Sure, they're trying to implement the concept of 'spaced repetition' which is absolutely paramount in any language learning program, but I don't think they've done it effectively.

Here's another comment that was greatly really appreciated.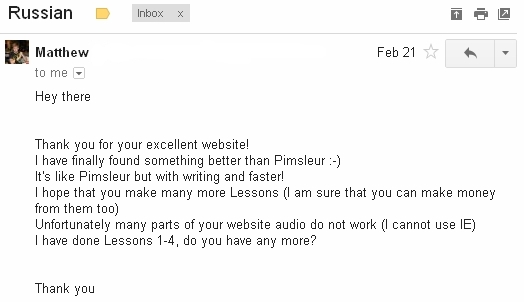 The above comment was from several years ago and we now have our 'active text' feature which really helps students work on their listening and speaking abilities. It uses html5 code and should work in all browsers. If it's not working for you, please update your browser or try a different browser.

And I really wonder why Pimsleur hasn't realized the obvious, as Matthew has, and made it "with writing and faster!" Oh well, that just gives us more opportunity to give you what you need to learn Russian. :)


Comments from our members:
Just thought I'd share my impressions on this method of learning. The lessons are great and I really feel like I've made some rapid progress. I love the idea of being able to use the new vocabulary in simple dialogue and adding new words all the time. Grammar is no problem and simply becomes automatic as you go along. So all in all you're definitely onto a good thing here and all I can say is 'balshoye spasiba'!
Joseph

Thanks for all the work that you have done in subtitling all those movies. It sure makes it easier for the rest of us when we are looking for material to study.
Michael

Things are going well. I still have a lot to do to catch up, but wanted to tell you that I really liked the "word study concept" that was in the Vocab - Day 6 spreadsheet.
Joseph

Lessons 5, 6, and 7 (of which I have both audio and print files) are just great. I can listen to the audio without looking at the printout to improve my 'hearing'. I can follow along with the print out to improve my comprehension and finally I speak along with to improve my verbal Russian skills. Just a great series.
Karen

I am using different programs to learn Russian and in my opinion yours seems to stick in my memory and the phrases surface automatically.
Jerome

Your movies with subtitles are great.
Joon

I found the '10 words a day' print file also very useful. I've always believe that the little words and little phrases of any language are the most powerful because they are used over and over again in simple speech.
Karen

I really value your service. I listen to your recordings every morning and enjoyed your last set. I think your method is a great way to learn!
Thanks,
Jerome


Review of Pimsleur Russian
Before you buy the whole package for the ridiculous price of $230 (and that's a discounted price on Amazon.com) I strongly recommend you get the $10 package which includes the first 8 lessons and comes with a money back guarantee.

And ask yourself, do you want to be able to read Russian? Of course you do!! If you travel to Russia you WILL want to be able to read street signs, menus, etc.

I'm going to do a full review of the Pimsleur Russian program and will add the link here when it's ready.

If you have any questions, or would like more information, please email me, Brian. ( gmaebc@gmail.com )

Return to top of page